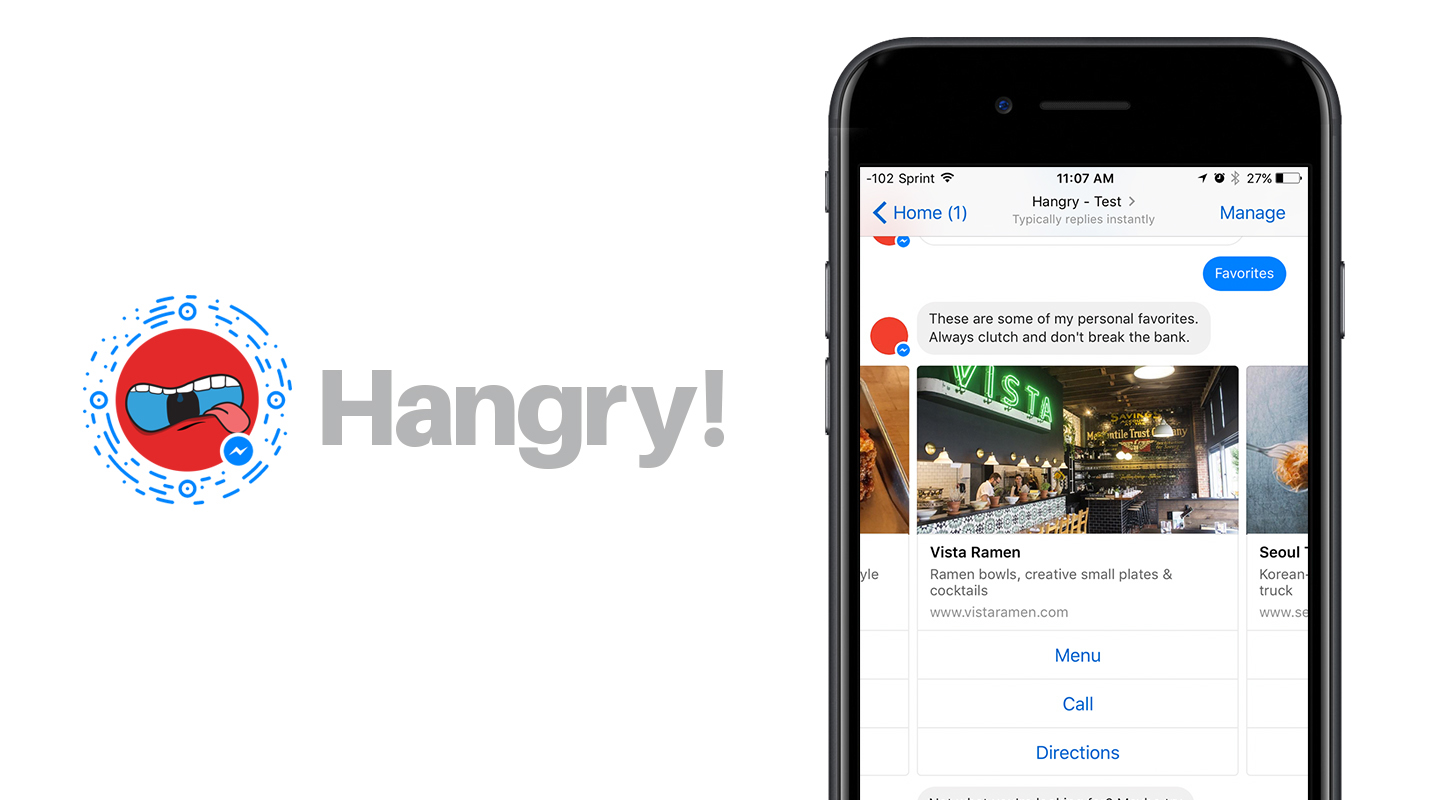 Hangry! | Foodie Chatbot *On-Going Project*
Tools Used:
Adobe CC, Google Sheets, Pen & Paper, Chatfuel platform.

Role:
UX Research, Branding & Visual Design.
The idea for Hangry came from a conversation I was having with some friends who were visiting the city. They asked me where were the places my wife and I liked to eat since we would post to IG and Facebook places we would try out. Originally I created pdf, but that quickly became confusing as I tried to organize all the places we had been into separate categories. I had also been researching and testing out some different chatbots and decided to try out the idea of a local foodbot. It got great feedback from my friends and I decided to scale it up and see if there would be interest from others.  
For my initial research I referenced these articles on the topics of Conversational UI and keeping users engaged.
Next I began to brainstorm some goals for the chatbot. I'm approaching this in a iterative format as I'm learning a lot about Conversational UI's as I'm designing and building. I used Google Sheets to organize the restaurants into categories and then created a flow chart of how the user should go from one stage to the next. 
For the version 1 I wanted users to be able to simply find restaurants via two channels "Favorites", curated selection, and Categories, that offer more choice and options. I also thought the core functions needed to be able to see the menu, number to call, and directions. 
Features for the next iterations I plan to implement: Geofencing/Location based eateries, Pricing categories, and AI implementation so users have a more personal experience. 
For the logo and branding I wanted to visualize what it really means to be HANGRY. I started off with sketches that focused on trying to make it look more bot-like but soon realized I didn't want the focus of Hangry to be just the bot but the food experience over all. From there I took my sketches into illustrator to polish them up. Ultimately I went with a variation of two of my sketches and chose Aileron for my main typeface. 
For the landing page I went with a simple split screen design with a single call to action for the beta.