ROHO.io is an early stage startup and platform for sermon and devotional content aimed at an predominantly African American audience. It currently has over 150,000 email subscribers and an average of 17 minutes of video is watched per session. The long-term vision is to become a platform which aids in the democratization of spiritual content and where users can curate their own spiritual journey. In summer 2016, I was hired to lead ROHO's product design, as well as to assist with branding and creative direction efforts.
•  Personas, User Research, User Testing & Interviews
•  Wireframes. high-fi mockups, Low-fi to High-fi Interactive Prototypes
•  Sitemaps, Interaction Specs
•  Tools Used: Sketch, Adobe XD (wireframes + prototyping), Illustrator, Photoshop, Pen & Paper, Trello, Google Sheets, Marvel (Prototyping), Zeplin, Amplitude.
Other Team Members:  Full stack developer, Marketing & Business, Founder,  CTO/Product Manager.
 Abide, Sprinkle of Jesus, YouVersion (Bible App), iDisciple
•  Most competitors have content and experiences focused on multiple angles and not specifically on providing quality sermon content. 
•  Most potential end-users we interviewed had only heard of YouVersion (Bible App).
•  Only one competitor targeted an African American audience.
•  Most competitors have features and content layered under multiple pages making it dificult to find.


•  Discover what other use cases in which ROHO is being used.
•  Dig deeper into why users originally signed up for ROHO.
•  Discover if the content is valuable to them and if they would be willing to pay for it, how much, etc.
•  Find three most requested features from core users (45+ women) and millennials.
•  Find common pain points across users. 
•  Find trends in what users want to know most about the platform.
Surveys:

Surveyed 150 users asking about feature requests, pain points, and what they wanted to know most about ROHO's platform. 
Email Response:

When new users signup for daily emails we send them a welcome email asking why they signed up for ROHO. I analyzed 500 of these responses looking for trends and also followed up with some individually.
Interviews (Phone):

I interviewed approximately 65 users; 30 pertaining to features and pain points, 30 around why they signed up for ROHO and how they heard about it, and 5 pertaining to willingness to pay for the product.
We attacked the new features request in an Agile format using sprints. I created  a flow chart to organize the needs for each sprint.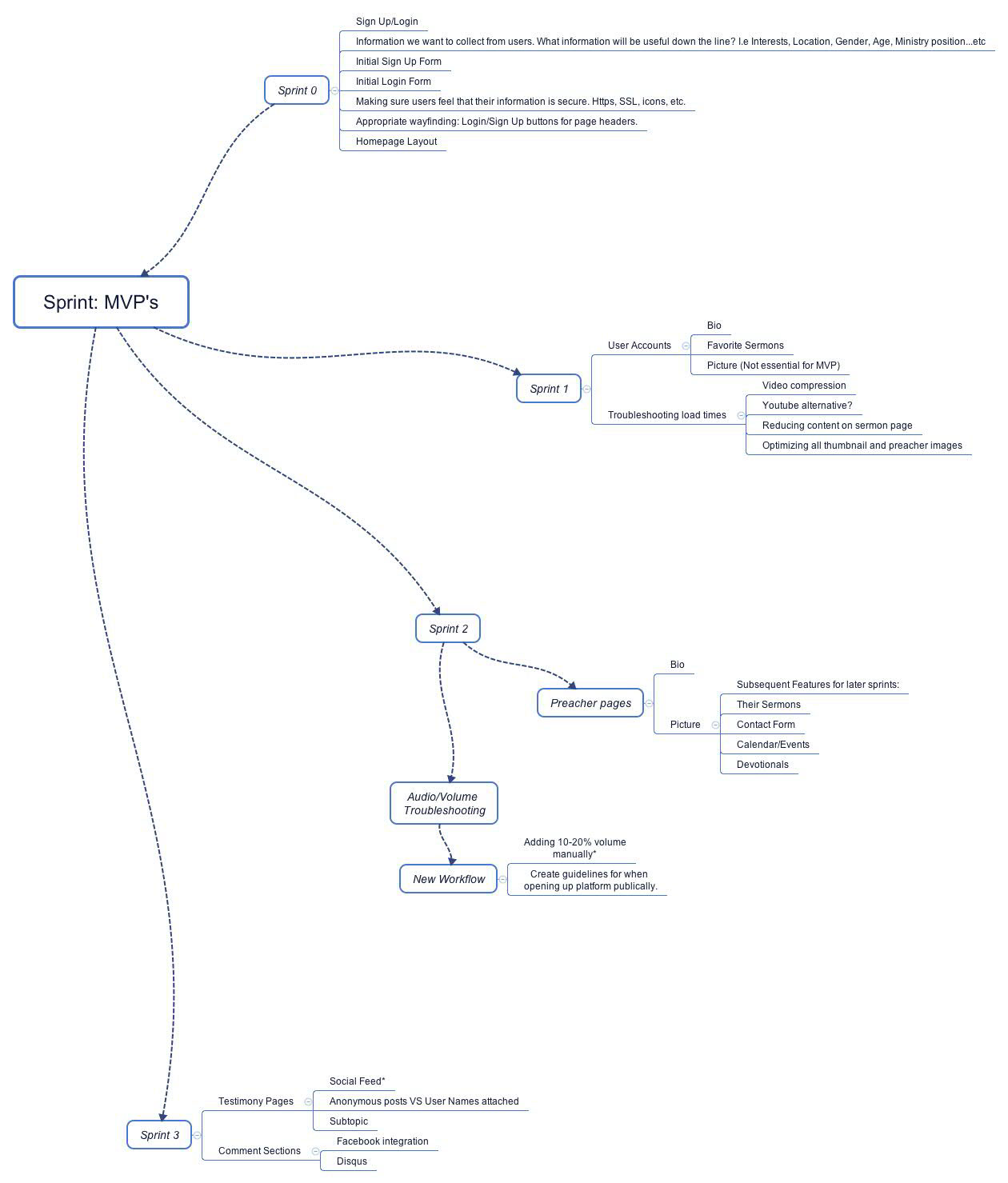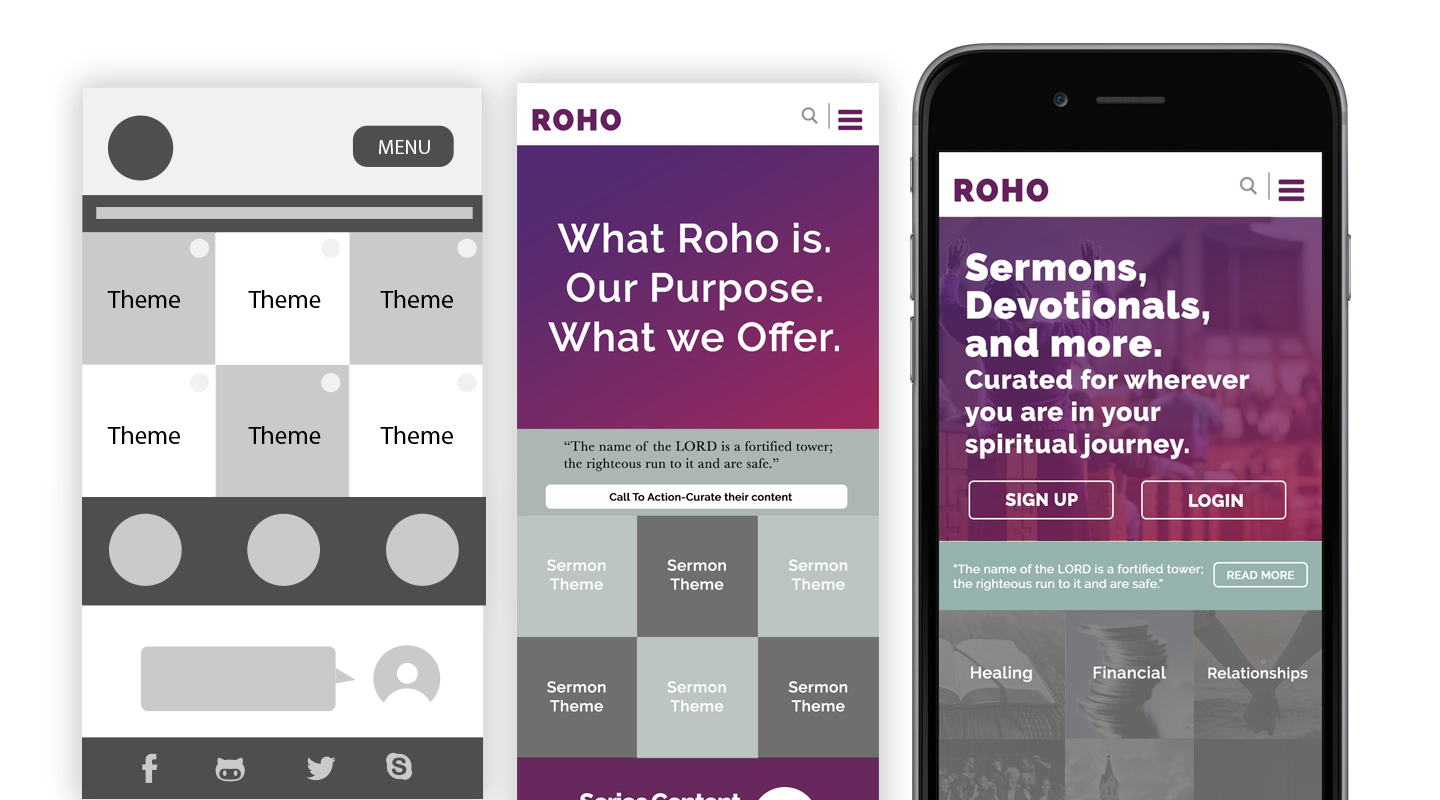 PROFILE & SERMON PAGE ITERATIONS
I shifted gears at this point as I was excited to try Adobe XD. It was to easy to jump into and completely sped up my workflow.
For the sermon page in particular I researched existing ui patterns to find an efficient solution for all the features we now had on the page. 
Preacher Profile & Sign-In/Sign-Up
In addition to my role as product designer, I also assisted in completing several other deliverables for print projects, merchandise and Facebook advertising. Finally, I designed the pitch deck presented by ROHO to close its seed round, as well as at 500 Startups Demo Day 2016. Watch below: